Last week, I talked about how Google's recent quantum simulation of a toy model wormhole was covered in the press. What I didn't say much about, was my own opinion of the result. Was the experiment important? Was it worth doing? Did it deserve the hype?
Here on this blog, I don't like to get into those kinds of arguments. When I talk about public understanding of science, I share the same concerns as the journalists: we all want to prevent misunderstandings, and to spread a clearer picture. I can argue that some choices hurt the public understanding and some help it, and be reasonably confident that I'm saying something meaningful, something that would resonate with their stated values.
For the bigger questions, what goals science should have and what we should praise, I have much less of a foundation. We don't all have a clear shared standard for which science is most important. There isn't some premise I can posit, a fundamental principle I can use to ground a logical argument.
That doesn't mean I don't have an opinion, though. It doesn't even mean I can't persuade others of it. But it means the persuasion has to be a bit more loose. For example, I can use analogies.
So let's say I'm looking at a result like this simulated wormhole. Researchers took advanced technology (Google's quantum computer), and used it to model a simple system. They didn't learn anything especially new about that system (since in this case, a normal computer can simulate it better). I get the impression they didn't learn all that much about the advanced technology: the methods used, at this point, are pretty well-known, at least to Google. I also get the impression that it wasn't absurdly expensive: I've seen other people do things of a similar scale with Google's machine, and didn't get the impression they had to pay through the nose for the privilege. Finally, the simple system simulated happens to be "cool": it's a toy model studied by quantum gravity researchers, a simple version of that sci-fi standard, the traversible wormhole.
What results are like that?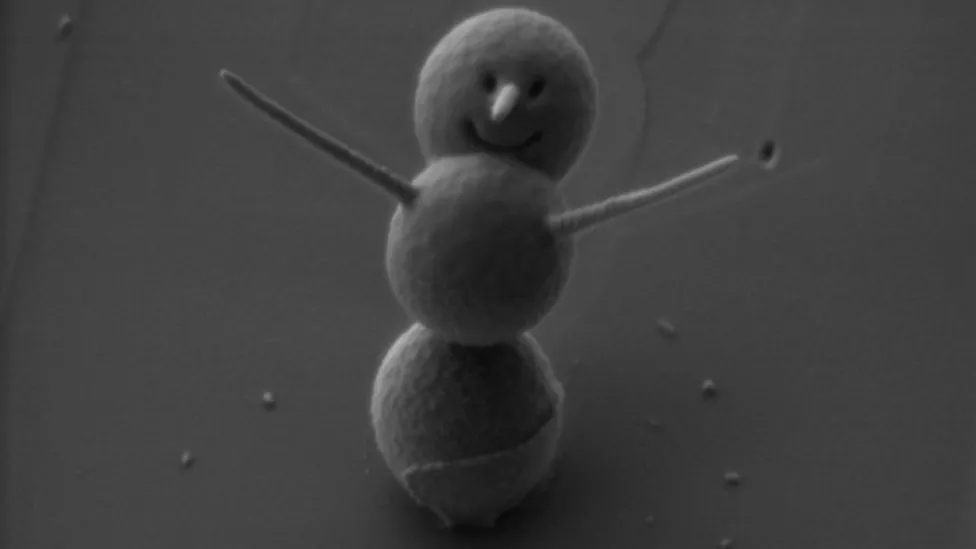 Occasionally, scientists build tiny things. If the tiny things are cute enough, or cool enough, they tend to get media attention. The most recent example I can remember was a tiny snowman, three microns tall. These tiny things tend to use very advanced technology, and it's hard to imagine the scientists learn much from making them, but it's also hard to imagine they cost all that much to make. They're amusing, and they absolutely get press coverage, spreading wildly over the web. I don't think they tend to get published in Nature unless they are a bit more advanced, but I wouldn't be too surprised if I heard of a case that did, scientific journals can be suckers for cute stories too. They don't tend to get discussed in glowing terms linking them to historical breakthroughs.
That seems like a pretty close analogy. Taken seriously, it would suggest the wormhole simulation was probably worth doing, probably worth a press release and some media coverage, likely not worth publication in Nature, and definitely not worth being heralded as a major breakthrough.
Ok, but proponents of the experiment might argue I'm leaving something out here. This experiment isn't just a cute simulation. It's supposed to be a proof of principle, an early version of an experiment that will be an actually useful simulation.
As an analogy for that…did you know LIGO started taking data in 2002?
Most people first heard of the Laser Interferometer Gravitational-Wave Observatory in 2016, when they reported their first detection of gravitational waves. But that was actually "advanced LIGO". The original LIGO ran from 2002 to 2010, and didn't detect anything. It just wasn't sensitive enough. Instead, it was a prototype, an early version designed to test the basic concept.
Similarly, while this wormhole situation didn't teach anything new, future ones might. If the quantum simulation was made larger, it might be possible to simulate more complicated toy models, ones that are too complicated to simulate on a normal computer. These aren't feasible now, but may be feasible with somewhat bigger quantum computers: still much smaller than the computers that would be needed to break encryption, or even to do simulations that are useful for chemists and materials scientists. Proponents argue that some of these quantum toy models might teach them something interesting about the mathematics of quantum gravity.
Here, though, a number of things weaken the analogy.
LIGO's first run taught them important things about the noise they would have to deal with, things that they used to build the advanced version. The wormhole simulation didn't show anything novel about how to use a quantum computer: the type of thing they were doing was well-understood, even if it hadn't been used to do that yet.
Detecting gravitational waves opened up a new type of astronomy, letting us observe things we could never have observed before. For these toy models, it isn't obvious to me that the benefit is so unique. Future versions may be difficult to classically simulate, but it wouldn't surprise me if theorists figured out how to understand them in other ways, or gained the same insight from other toy models and moved on to new questions. They'll have a while to figure it out, because quantum computers aren't getting bigger all that fast. I'm very much not an expert in this type of research, so maybe I'm wrong about this…but just comparing to similar research programs, I would be surprised if the quantum simulations end up crucial here.
Finally, even if the analogy held, I don't think it proves very much. In particular, as far as I can tell, the original LIGO didn't get much press. At the time, I remember meeting some members of the collaboration, and they clearly didn't have the fame the project has now. Looking through google news and the archives of the New York times, I can't find all that much about the experiment: a few articles discussing its progress and prospects, but no grand unveiling, no big press releases.
So ultimately, I think viewing the simulation as a proof of principle makes it, if anything, less worth the hype. A prototype like that is only really valuable when it's testing new methods, and only in so far as the thing it's a prototype for will be revolutionary. Recently, a prototype fusion device got a lot of press for getting more energy out of a plasma than they put into it (though still much less than it takes to run the machine). People already complained about that being overhyped, and the simulated wormhole is nowhere near that level of importance.
If anything, I think the wormhole-simulators would be on a firmer footing if they thought of their work like the tiny snowmen. It's cute, a fun side benefit of advanced technology, and as such something worth chatting about and celebrating a bit. But it's not the start of a new era.