I've written an article for Scientific American! It went up online this week, the print versions go out on the 25th. The online version is titled "Loopy Particle Math", the print one is "The Particle Code", but they're the same article.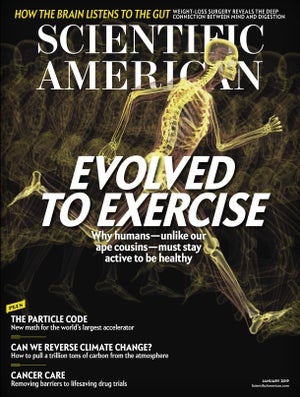 For those who don't subscribe to Scientific American, sorry about the paywall!
"The Particle Code" covers what will be familiar material to regulars on this blog. I introduce Feynman diagrams, and talk about the "amplitudeologists" who try to find ways around them. I focus on my corner of the amplitudes field, how the work of Goncharov, Spradlin, Vergu, and Volovich introduced us to "symbology", a set of tricks for taking apart more complicated integrals (or "periods") into simple logarithmic building blocks. I talk about how my collaborators and I use symbology, using these building blocks to compute amplitudes that would have been impossible with other techniques. Finally, I talk about the frontier of the field, the still-mysterious "elliptic polylogarithms" that are becoming increasingly well-understood.
(I don't talk about the even more mysterious "Calabi-Yau polylogarithms"…another time for those!)
Working with Scientific American was a fun experience. I got to see how the professionals do things. They got me to clarify and explain, pointing out terms I needed to define and places I should pause to summarize. They took my rough gel-pen drawings and turned them into polished graphics. While I'm still a little miffed about them removing all the contractions, overall I learned a lot, and I think they did a great job of bringing the article to the printed page.